Health effects of air pollution
Exposure to air pollution poses significant public health risks.
A variety of air pollutants have known or suspected harmful effects on human health and the environment. In most areas, these pollutants are principally the products of combustion from heating and power generation, and motor vehicles. Pollutants may not only cause problems in the immediate vicinity of these sources, but can travel long distances and affect more people and places.
The health effects associated with the main pollutants of concern are:
Nitrogen Dioxide, Sulphur Dioxide, Ozone - Irritate the airways of the lungs, increasing the symptoms of those suffering from lung diseases.
Particles (PM10, PM2.5) - Can be carried deep into the lungs they can cause inflammation and a worsening of heart and lung diseases.
Carbon Monoxide - Prevents the uptake of oxygen by the blood and poses a greater risk to those suffering from heart disease.
The Daily Air Quality Index has been developed to provide advice on expected levels of air pollution. In addition, information on the short-term effects on health that might be expected to occur at the different bands of the index (Low, Moderate, High, Very High) is provided.
In the UK, the equivalent of around 29,000 and 23,500 deaths are attributed to exposure to PM2.5 and nitrogen dioxide, respectively. Its impacts cost society around £20b every year.
In the context of air quality management, the pollutants of primary public health concern are nitrogen dioxide (NO2) and particulate matter (PM10, PM2.5).
Pollutant
Source
Health Effect
Particulate Matter (PM10, PM2.5)
Primary:

vehicle engine emissions
tyre and brake wear
industry and other non-exhaust emissions
quarrying
construction

Secondary (formed by chemical reactions in the air:

emissions of ammonia
sulphur dioxide
oxides of organic compounds from both combustion sources and vegetation

Short term exposures can increase:

asthma
eye, noise and throat irritation
headaches
nausea
bronchitis
pneumonia

Chronic exposure increases morbidity and mortality through:

cardiovascular effects
respiratory impacts
lung cancer

Particle exposure has also been linked with:

atherosclerosis
childhood respiratory disease
endocrine (diabetes)
nervous (cognitive function)
adverse birth outcomes
liver and kidney damage

Nitrogen dioxide (NO2)

road transport
electricity supply
industry
other industrial and commercial sectors

short term association with all-cause and cause specific mortality
airway inflammation
impaired lung function
increased hospital admissions
Air pollution and health in Wales
There are around 40 localised Air Quality Management Areas in Wales; air pollution concentrations and related risks are higher in these areas than elsewhere. However, because there is no 'safe' level of air pollution the whole population is affected to some extent by being exposed to air pollution every day. The health burden from air pollution exposure is therefore spread across the whole population, but is greater in urban areas than in rural areas.
Each year in Wales, an equivalent of 1604 (5.4%) deaths can be attributed to PM2.5 exposure, and 1108 deaths to NO2 exposure.
|   | Annual mean conc. (µgm-3) | Attributable deaths (range) | Years of Life Lost (range) |
| --- | --- | --- | --- |
| PM2.5 urban | 9.59 | 1125 (741-1427) | 13494 (8886-17127) |
| PM2.5 rural | 8.30 | 447 (314-606) | 5725 (3765-7274) |
| NO2 urban | 18.08 | 876 (358-1374) | 10516 (4294-16487) |
| NO2 rural | 9.38 | 224 (91-354) | 2693 (1093-4248) |
Air pollution and health inequalities
Air pollution varies across Wales; different people in different places are exposed to [sometimes very] different concentrations of air pollution.
Young and healthy people are unlikely to have any long-lasting effects from exposure to moderate air pollution concentrations. However, raised concentrations and/or long-term exposure to air pollution can lead to more serious health impacts that can affect the heart and respiratory system, and could cause cancer. Children, older people and those suffering already with lung or heart problems are most susceptible to the impacts of air pollution.
Research in Wales has also found that those living in more deprived areas may be at greater risk. The study, that linked local-level air pollution, income deprivation and health outcome data, found that annual mean air pollution concentrations were high in both 'most' and 'least' deprived areas, but highest in the former. This pattern was most pronounced for NO2 air pollution.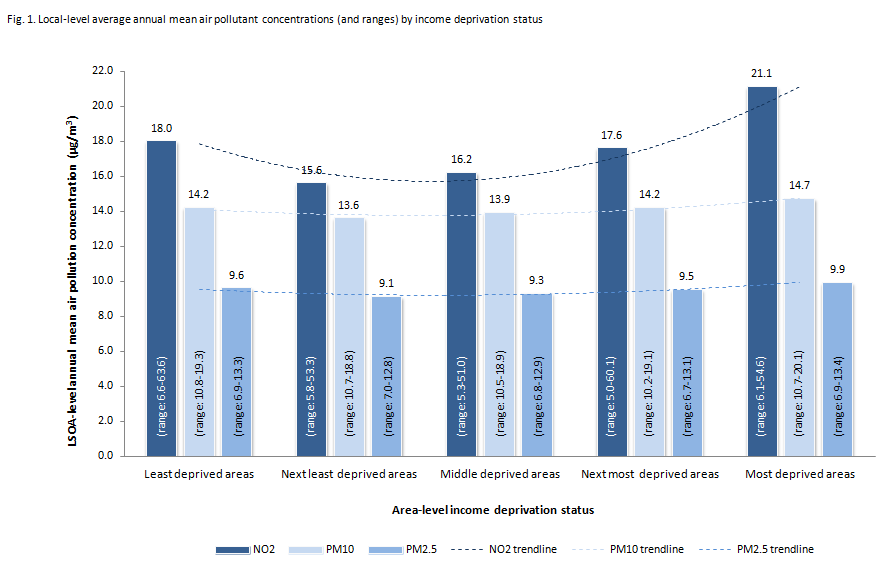 Although weaker than the known, strong associations between deprivation status and health, the same study found that air pollution, deprivation status and health are inextricably linked. Air pollution exposure not only poses direct risks to individual and population health, but indirectly – through its interaction with other wider health determinants – it can create disproportionate and strengthened disease risks and burdens between and within regions (inequalities).  
This 'triple jeopardy' concept appears to be at play in Wales where interactions between air pollution and deprivation status have been found to modify and strengthen associations with some health outcomes, especially in 'most' deprived areas where Wales' most-vulnerable people live. For example, the population respiratory disease mortality rate is 2.05 times higher in 'most deprived and low polluted' areas compared with 'least deprived and low polluted' areas, yet rises to 2.38 times higher in 'most deprived and high polluted' areas compared with 'least deprived and low polluted' areas.
Aside from deprivation links, it is possible that others may be at increased risk too, perhaps because they work in heavily polluted places or commute to work through heavily congested and polluted areas.